Overview of Veterinary IR
Interventional Radiology (IR) utilizes several imaging modalities as well as specialized instrumentation. The most common imaging modality utilized in veterinary IR is fluoroscopy. With fluoroscopy, real-time images of the internal structures of a patient can be obtained. These images are similar to radiographs ("x-rays") and contrast can be added to delineate certain structures such as luminal organs (eg. urethra, bladder, esophagus, colon) and blood vessels.
Other common imaging modalities that may be utilized include ultrasound, computed tomography (CT) scans, and magnetic resonance imaging (MRI). These imaging modalities are often used in the pre-procedural assessment of veterinary patients as well.

Self Expanding Stent
Some of the unique instrumentation utilized in veterinary IR cases includes stents, catheters, sheaths, balloons and embolic agents. Stents are used to treat benign and malignant strictures of the nasopharynx, trachea, urethra, ureter, esophagus, colon and blood vessels. Many stents that are used in veterinary IR are self-expanding stents and have a cage-like appearance.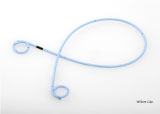 Ureteral Stent
Other stents can be formed in a shape similar to catheters and are often used to treat obstructions of the ureter.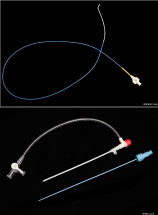 Catheter and Vascular Sheath
Catheters and sheaths are used in the majority of vascular procedures and allow for improved access to certain blood vessels. Additionally, these instruments may be used during certain stenting procedures.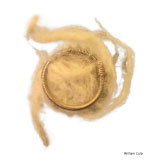 Embolic Agent
Embolic agents are used to cause slowing or cessation of blood flow. These are most commonly utilized in veterinary medicine to stop blood flow through abnormal blood vessels (portosystemic shunts and arteriovenous fistulas) or to tumors (embolization or chemoembolization).